Avery Easy Merge for Office 365
Introduction
The Avery Easy Merge add-in makes it quick and easy to create labels, cards and name tags using an Excel spreadsheet. The information in your list is merged into Avery Design & Print Online, where you can format and print your project.
Additional Services and Accounts
This add-in depends on additional services and accounts:
The services of avery.com Web site are necessary for label design.
An account at avery.com is needed to store the merged project for future access.
An internet connection is needed to access the add-in and avery.com Web site.
Installing the Add-in
The add-in can be downloaded from the Microsoft Office Store at store.office.com.Search for "Avery Easy Merge".

Select the add-in and follow the instructions to install. Once the add-in is installed in Excel, you can find it under Home tab > Avery Easy Merge.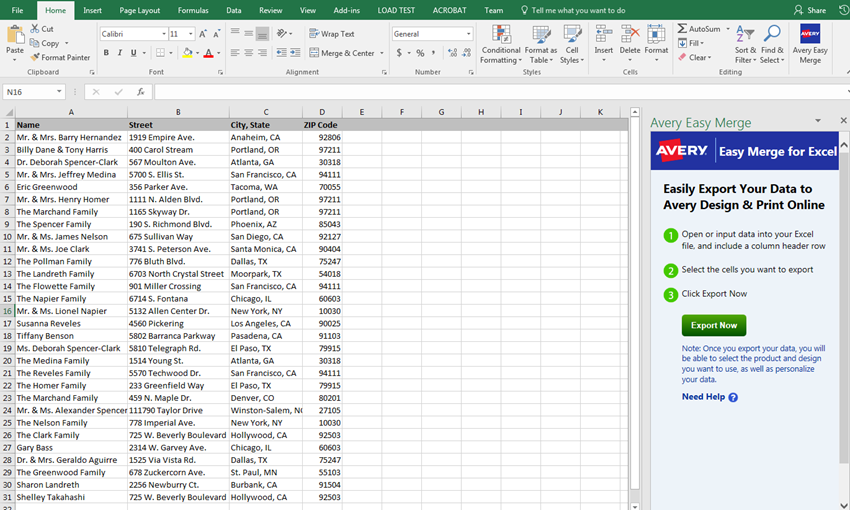 Using the Excel Add-in
Your data should be organized in columns in Excel as shown below. The maximum number of columns is 20 and the maximum number of rows is 3,000. Click Export Now to get started.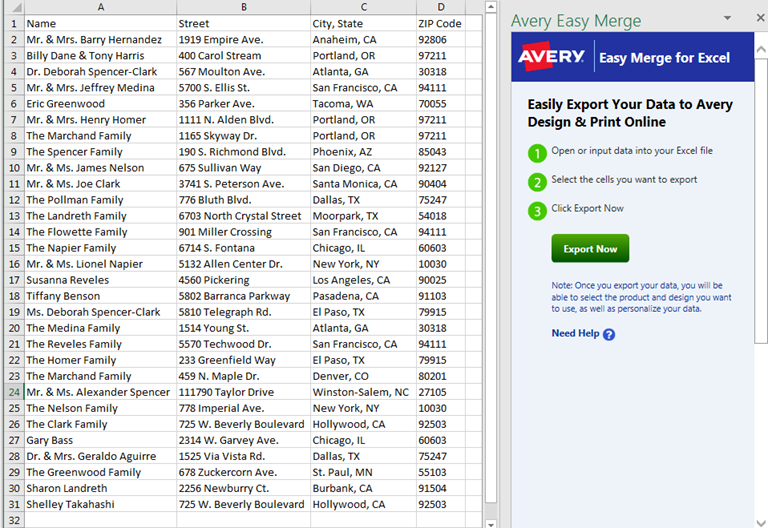 Once your data has been processed, click Continue to Avery.com.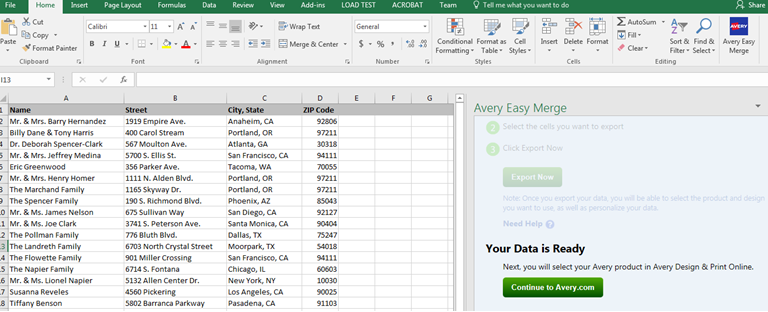 Next, enter your Avery product number in the Quick Search window or browse by product category on the left.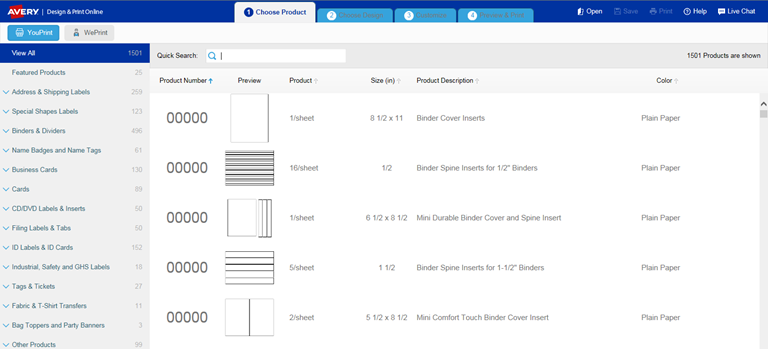 Click Select this Design on the blank or pre-designed template you'd like to use.

You should then see the information from your Excel file. Deselect any rows or columns you don't want to include. If your spreadsheet includes a header row, be sure to deselect that row. Click Next.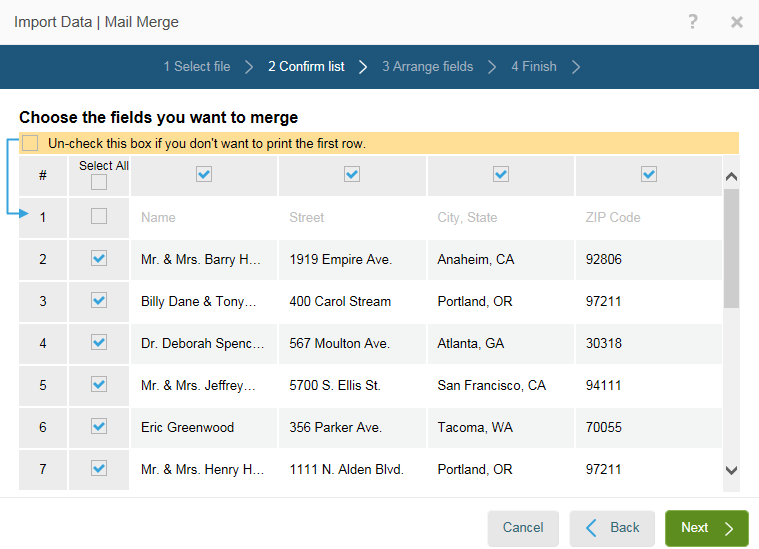 Drag and drop or double-click your data fields on the left to arrange them in the order you want. Click Next.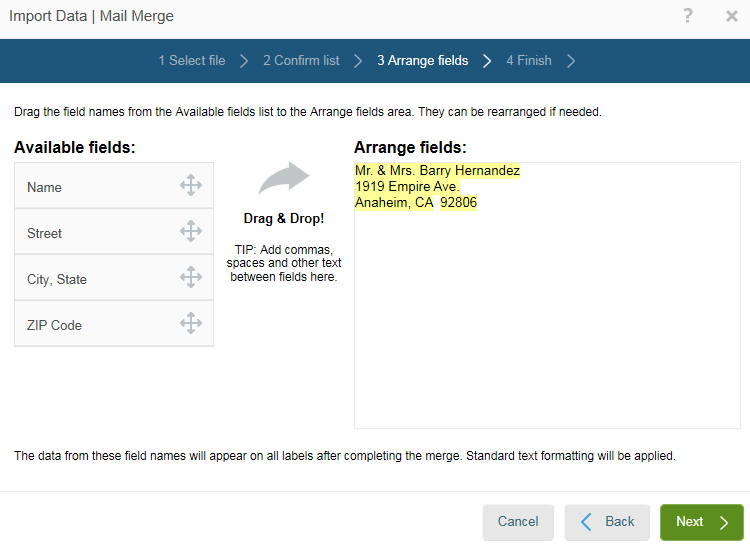 Now you will be able to edit your text and customize the placement, font size and style. Make changes to the whole sheet at once using the Edit All tab in the Navigator on the right side of the screen. If you want to make changes to individual labels or cards, switch to Edit One. When you're satisfied, click Preview & Print.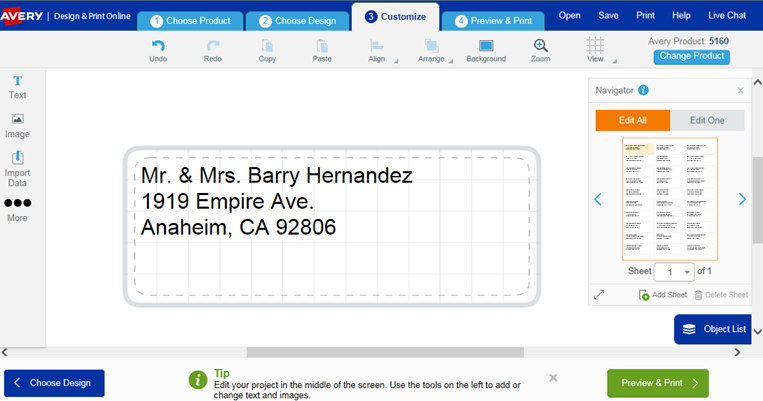 If your project looks good, you can choose to Print it Yourself, or some Avery products can be custom printed by our WePrint professional printing service by clicking Let Us Print for You.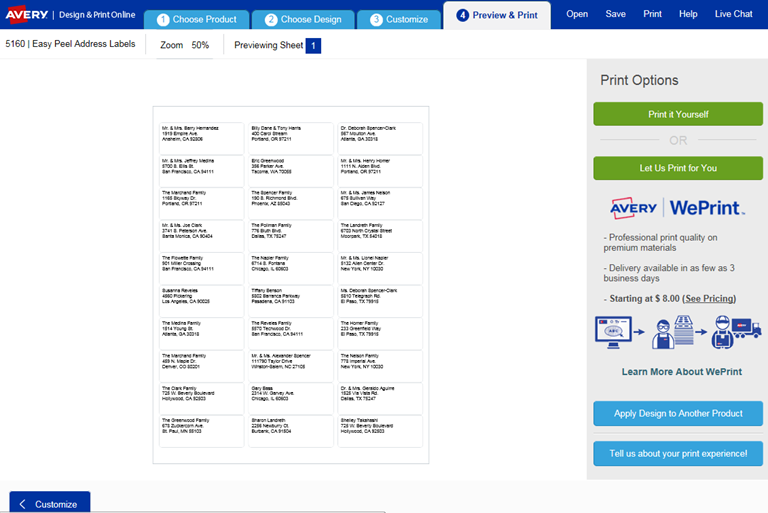 Click Print Now.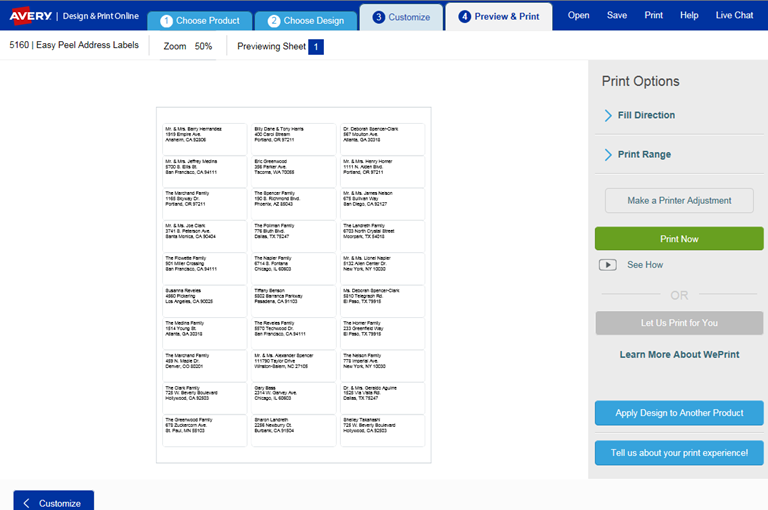 A pdf will be generated. Follow the instructions for successful printing.
Remove the Excel Add-in: for Windows
Click the Home tab, and then right-click on the Avery Easy Merge icon
From the menu that pops up, select Remove Add-in
Follow the instructions and the add-in will be removed. See screeshot below.
Remove the Excel Add-in: for MacOS
Click the Insert tab, and then click My Add-ins.
In Office Add-ins, click the 3 dots menu next to the Add-in.
Click Remove. See screeshot below.
Read the notice that appears regarding other devices and click Remove.